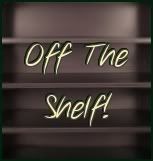 Thinking about participating in this reading challenge as shown
here
.
Click on that link to see more about what this is about. Mostly, really, I just need to read WAY more than I do. I think it's literally been years since I finished a book. I'm starting small at the "Tempted" level (5 books from Jan 1 to Dec 31) but I'm hoping to progress beyond that.
Also hoping to post some book reviews but not anticipating much on that front, so don't go holding your breath. I don't want to be responsible for any asphyxiation-related deaths. ;)
Anyway, here's my list (I may revise it as I currently have limited access to our book collection):
1. Animal Farm (G. Orwell)
2. The Dark Tower 1: The Gunslinger (S. King)
3. The Hobbit (J.R.R. Tolkien)
4. The Story of Henri Tod (W.F. Buckley Jr.)
5. Night Bites (N. Bangs)
An interesting selection of authors, I think, and at least two of those books I've been determined to read for quite a while now.
I may also revise what order I read them. But for now I can say I'm ready to go Jan 1. And I have an alternate option for ways to keep occupied during the family trip to the midwest in February. (Yarn, hooks and needles are definitely coming with me! I might take that opportunity to get some socks done!) :D
So we're just a day and some away from a new year. Dieting is not on my resolution list (already doing that and not in the weight-loss sense of the word). I have new friends and a regular girls-night-out sort of deal to look forward to continuing, so that's another resolution I can check off my long-standing list. . . I don't see finding work or going back to school as things which should be included on a New Years resolution list. Have I nothing to resolve?
Hardly.
I think I should resolve to finish what I start. At least I'm touching my blog semi-regularly!